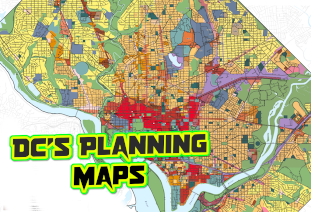 DC COMPREHENSIVE PLAN MAPS
The Future Land Use Map (FLUM)
The Generalized Policy Map (GPM)
Ward 1 || Ward 2 ||  * Ward 3 || Ward 4 || * Ward 5 || * Ward 6 || Ward 7 || Ward 8 || Unclear || All Wards
* Top 3 Wards with Most Map Changes
---
The DC Grassroots Planning Coalition has tried to make it easier for you and your neighbors to get to information as to how the Mayor and DC Office of Planning wants to change your neighborhood and Ward.
Below, we break down by Ward, the information on what Map the Mayor wants to amend, in what ways (upzoning), and to do so by Ward for your ease of access.
The Mayor's Office of Planning has also put this slide tool online recently (as of Nov. 4) to show how the maps are changing.
---
WARD 1
[top]
| | | | | | |
| --- | --- | --- | --- | --- | --- |
| Map | Tracking Number | Current Density | Proposed Density | Parcel ID | |
| FLUM | 707 | Mixed-Use Moderate Density | Striped / Local Public Facilities / Moderate Density Commercial / Medium Density Residential | 1617 U Street NW | |
| FLUM | 1114 | Mixed-use Low Density Commercial and Moderate Density Residential | Mixed-use Moderate Density Commercial and Medium Density Residential | 3540 14TH ST NW – Exxon gas station | |
| FLUM | 2130 | Moderate Density Residential | Medium Density Residential | Corner of Belmont ST NW and 13th St NW | |
| FLUM | 9808 | Moderate Density Residential | Low Density Commercial/Medium Density Residential | Mid block of S St NW between 13th St NW and 14th St NW | |
| FLUM | 9811 | Institutional | Medium Density Commercial/High Density Residential /Institutional | Georgia Ave NW, W St NW, Elm St NW and 6th St NW | |
| FLUM | 9812 | Institutional | Medium Density Commercial/Medium Density Residential/Institutional | 5th St NW, Elm St NW, 6th St NW and W St NW | |
| FLUM | 9813 | Medium Density Commercial/Medium Density Residential | Medium Density Commercial/Medium Density Residential/Local Public Utilities | Eastern side of block between V St NW, U St NW, 14th St NW and 13th St NW | |
| FLUM | 9933.1 | Institutional | Moderate Density Residential | Southeast half of the block between Georgia Ave NW, Columbia Rd NW, Sherman Ave NW, Irving St NW | |
| FLUM | 9933.2 | Institutional | Moderate Density Commercial, Medium Density Residential | Northeast half of the block between Georgia Ave NW, Columbia Rd NW, Sherman Ave NW, Irving St NW | |
| FLUM | 9980 | Medium Density Residential | Low Density Commercial, Medium Density Residential | Southwest corner of 17th St NW, Mt Pleasant St NW and Park Rd NW | |
| GPM | 55 | Neighborhood Conservation Area | Main Street Mixed Use Corridor | Square/Lot(s): 3038/57, 58, 59, 60, 82, & 83 | |
| GPM | 9965 | Neighborhood Conservation Area | Main Street Mixed-Use Corridor | S St NW, Riggs St NW, 14 St NW | |
---
WARD 2
[top]
| | | | | |
| --- | --- | --- | --- | --- |
| Map | Tracking Number | Current Density | Proposed Density | Parcel ID |
| FLUM | 263 | Unzoned | High Density Residential | 1051-1055 29th Street NW – West Heating Plant |
| FLUM | 1744 | Institutional | Neighborhood Conservation Area | 601 24th St NW – GWU |
| FLUM | 9808 | Moderate Density Residential | Low Density Commercial/Medium Density Residential | Mid block of S St NW between 13th St NW and 14th St NW |
| FLUM | 9810 | Moderate Density Commercial/ModerateDensity Residential | Moderate Density Commercial/Medium Density Residential | Both sides of 11th St NW between O St NW and M St NW |
| FLUM | 9935 | Low Density Commercial, Moderate Density Residential | Moderate Density Commercial, Medium Density Residential | North Capitol St NW, Bates St NW, Q St NW and Florida Ave NW |
| FLUM | 9938 | Moderate Density Residential | Moderate Density Commercial, Moderate Density Residential | Both sides of 11th St NW between O St NW and R St NW |
| FLUM | 9981 | Federal | High Density Commercial | Pennsylvania Ave NW, E St NW, 9th St NW, 10th St NW |
| FLUM | 9982 | Federal | High Density Commercial | Constitution Ave NW, 3rd St NW, 2nd St NW, E St NW |
| GPM | 9809 | Land Use Change Area | Central Washington | New York Ave NW, H St NW, 11 St NW, 9th St NW (Old Convention Center Site) |
| GPM | 9965 | Neighborhood Conservation Area | Main Street Mixed-Use Corridor | S St NW, Riggs St NW, 14 St NW |
| GPM | 9989 | Institutional | Neighborhood Conservation Area | Virginia Ave NW, E St Expy, 25th St NW |
---
WARD 3
[top]
| | | | | |
| --- | --- | --- | --- | --- |
| FLUM | 151.1 | High Density infringing onto Moderate Density RA-2 Zone; map incorrectly shows Square as medium density instead of moderate density | Corrected to show High Density Residential only in zone RA-4 and moderate density for the rest | 29th NW, 24th NW Between Calvert and Woodley – Sheraton Hotel block |
| FLUM | 180 | Moderate Density Commercial | Medium Density Commercial | Connecticut Ave between Van Ness and Albermarle St. |
| FLUM | 1690 | Low Density Residential | Medium Density Residential | 3415 Yuma St NW – UDC |
| FLUM | 2095 | Low Density Commercial | Mixed use Low Density Commercial/Medium Density Residential | 4545 42ND ST NW |
| FLUM | 2123 | Low Density Commercial | Moderate Density Commercial | Connecticut Ave between Macomb St NW and Porter ST. NW – Cleveland Park Metro |
| FLUM | 2154.1 | Mixed use Medium Density Residential/Medium Density Commercial | High Density Residential/High Density Commercial | Wisconsin Ave NW, Western Ave, and Jennifer ST. – Friendship Heights Metro/Mazza Gallerie |
| FLUM | 2154.21 | Mixed use Medium Density Residential/Medium Density Commercial | High Density Residential/High Density Commercial | Wisconsin Ave NW, Western Ave, and Jennifer ST. – Friendship Heights Metro/Mazza Gallerie |
| FLUM | 2154.3 | Mixed use Medium Density Residential/Medium Density Commercial | High Density Residential/High Density Commercial | Wisconsin Ave NW, Western Ave, and Jennifer ST. – Friendship Heights Metro/Mazza Gallerie |
| FLUM | 2155.1 | Mixed use Moderate Density Residential/ Low Density Commercial / Low Density Residential | Mixed use Medium Density Residential/Moderate Density Commercial | Wisconsin Ave NW between Friendship Heights and Tenleytown Metro |
| FLUM | 2155.11 | Mixed use Moderate Density Residential/ Low Density Commercial / Low Density Residential | Mixed use Medium Density Residential/Moderate Density Commercial | Wisconsin Ave NW between Friendship Heights and Tenleytown Metro |
| FLUM | 2155.12 | Mixed use Moderate Density Residential/Low Density Commercial | Medium Density Residential/Low Density Commercial | Wisconsin Ave NW between Friendship Heights and Tenleytown Metro |
| FLUM | 2155.13 | unclear upzoning | unclear upzoning | Wisconsin Ave NW between Friendship Heights and Tenleytown Metro |
| FLUM | 2155.14 | unclear upzoning | unclear upzoning | Wisconsin Ave NW between Friendship Heights and Tenleytown Metro |
| FLUM | 2155.2 | Mixed use Moderate Density Residential/Low density commercial | Mixed use Medium Density Residential/moderate density commercial | Wisconsin Ave NW between Friendship Heights and Tenleytown Metro |
| FLUM | 2155.5 | Moderate Density Residential/Low Density Commercial | Medium Density Residential/Low Density Commercial | Wisconsin Ave NW between Friendship Heights and Tenleytown Metro |
| FLUM | 2155.6 | Moderate Density Residential/Low Density Commercial | Medium Density Residential/Low Density Commercial | Wisconsin Ave NW between Friendship Heights and Tenleytown Metro |
| FLUM | 2155.8 | Parks and Public Space/Low Density Commercial/Medium Density Residential/Medium Density Commercial | All Medium Density Residential/Medium Density Commercial | Wisconsin Ave NW between Friendship Heights and Tenleytown Metro |
| FLUM | 2155.9 | Medium Density Residential/Medium Density Commercial | High Density Residential/Medium Density Comemrcial | Wisconsin Ave NW between Friendship Heights and Tenleytown Metro |
| FLUM | 2238 | Low Density Commercial | Low Density Commercial/Moderate Density Residential | Connecticut Ave between  Morrison and Livingston |
| FLUM | 2322 | Moderate Density Residential/Low Density Commercial | Medium Density Residential/Moderate Density Commercial | Wisconsin Ave NW between Brandywaine, Chesapeake, and 42nd St |
| FLUM | 2382 | Low Density Commercial | Low Density Commercial/Moderate Density Residential | 5630Connecticut Avenue, NW |
| FLUM | 2570 | Low Density Commercial | Low Density Commercial/Medium Density Residential | Mass Ave NW and Fordham |
| FLUM | 2795 | unclear | Moderate Density Commercial/Medium Density Residential | Wisconsin Ave between Rodman and Yuma |
| FLUM | 2803 | unclear | Medium Density Residential/Moderate Density Commercial | Wisconsin Ave between Lowell and Idaho |
| FLUM | 9807 | Low Density Commercial | Low Density Residential | Western side of Connecticut Ave NW on Ordway St NW |
| FLUM | 9814 | Moderate Density Residential | Moderate Density Commercial/Medium Density Residential | Wisconsin Ave NW, Newark St NW, 39th St NW and Upton St NW |
| FLUM | 9821 | Local Public Facilities | Low Density Commercial, Medium Density Residential, Local Public Facilities | Eastern side of Connecticut Ave between McKinley St NW and Northampton St NW |
| FLUM | 9822 | Low Density Commercial | Low Density Commercial, High Density Residential | Both sides of Connecticut Ave NW between Calvert St NW and Woodley Rd NW |
| FLUM | 9945 | Institutional | Medium Density Residential, Institutional | Soapstone Valley Park and Upton St NW |
| FLUM | 9976 | Moderate Density Commercial, Medium Density Residential | Medium Density Commercial, Medium Density Residential | Brandywine St NW, 41st St NW, Chesapeake St NW and Fort Dr NW |
| FLUM | 9977 | Moderate Density Residential | Low Density Commercial, Moderate Density Residential | Western side of North Capitol St NW between R St NW and Randolph Pl NW |
| GPM | 9968 | Institutional | Neighborhood Commercial Center | New Mexico Ave NW, Sutton Pl NW, Lowell St NW |
| GPM | 9969 | Institutional | Neighborhood Conservation Area | Western Ave NW, Military Rd NW |
---
WARD 4
[top]
| | | | | |
| --- | --- | --- | --- | --- |
| Map | Tracking Number | Current Density | Proposed Density | Parcel ID |
| FLUM | 84 | Moderate Density Residential | Mixed-use Medium Density Commercial/Medium Density Residential | 7700 – 7730 EASTERN AVE NW |
| FLUM | 1359 | Low Density Residential | Mixed Use Moderate Density Residential and Low Density Commercial | Chillum Pl NE between Kansas and Sligo Mill Rd |
| FLUM | 1360 | Mixed-use Low Density Commercial and Moderate Density Residential | Mixed-use Medium Density Commercial and Medium Density Residential | Eastern Ave NW between Georgia and 12th |
| FLUM | 1696 | Mixed use Low Density Commercial/Moderate Density Residential | Low Density Residential | Fern Street/Floral Street NW Between 12th and Alaska |
| FLUM | 1708.1 | Mixed use Low and Moderate Density | Low Density Commercial/Medium Density Residential/Local Public Facilities | Takoma Metro Station between Cedar NW, Eastern Ave NW, and metro rails |
| FLUM | 2377 | Moderate Density | Low Density Commercial/Moderate Density Residential | Willow St NW between Aspen and Eastern Ave |
| FLUM | 2511 | Low Density Residential | Low Density Residential (correction) | Kalmia Rd. Between Shepherd Park between 12th St NW and Georgia Ave |
| FLUM | 2927 | Local Public Facility | Moderate Density Residential/Low Density Commercial/LPF | 4701 14TH ST NW – WMATA Northern Bus Station |
| FLUM | 9942 | Low Density Commercial, Moderate Density Residential | Moderate Density Commercial, Moderate Density Residential | Western side of 14th St NW between Buchanan St NW and Decatur St NW; Allison St NW, 14th St NW, Arkansas Ave NW and Buchanan St NW |
| FLUM | 9943 | Local Public Facilities | Moderate Density Residential | 10th St NW, Quebec Pl NW, 13th St NW and Spring Rd NW |
| FLUM | 9946 | Parks, Recreation and Open Space | Medium Density Commercial, Medium Density Residential | Western side of 1st Pl NE at the corner of Riggs Rd NE |
| FLUM | 9984 | Federal | Moderate Density Commercial,Moderate Density Residential | Walter Reed. See Recommended Future Land Use Map |
| FLUM | 9985 | Federal | Medium Density Residential | Walter Reed. See Recommended Future Land Use Map |
| FLUM | 9986 | Federal | Low Density Commercial, Moderate Density Residential | Walter Reed. See Recommended Future Land Use Map |
| FLUM | 9987 | Federal | Moderate Density Residential | Walter Reed. See Recommended Future Land Use Map |
| FLUM | 9988 | Federal | Moderate Density Commercial, Medium Density Residential, Parks, Recreation and Open Space | Walter Reed. See Recommended Future Land Use Map |
| FLUM | 9989 | Federal | Medium Density Commercial, Medium Density Residential | Walter Reed. See Recommended Future Land Use Map |
| FLUM | 9990 | Federal | Moderate Density Commercial, Medium Density Residential | Walter Reed. See Recommended Future Land Use Map |
| FLUM | 9991 | Federal | Moderate Density Commercial, Medium Density Residential, Parks, Recreation and Open Space | Walter Reed. See Recommended Future Land Use Map |
| FLUM | 9992 | Federal | Moderate Density Commercial, Moderate Density Residential, Institutional | Walter Reed. See Recommended Future Land Use Map |
| FLUM | 9993 | Federal | Moderate Density Commercial, Medium Density Residential | Walter Reed. See Recommended Future Land Use Map |
| FLUM | 9994 | Federal | Parks, Recreation and Open Space | Walter Reed. See Recommended Future Land Use Map |
| FLUM | 9995 | Federal | Institutional | Walter Reed. See Recommended Future Land Use Map |
| FLUM | 9996 | Federal | Medium Density Residential, Parks, Recreation and Open Space | Walter Reed. See Recommended Future Land Use Map |
| GPM | 1695 | Maintain neighborhood conservation area | n/a | Shepherd Park, Colonial Village and North Portal Estates. |
| GPM | 1713 | Amend the Generalized Policy Map to include all of the site in the Neighborhood Enhancement Area | n/a | Neighboring streets: Takoma Metro station site bounded generally by the Red Line Metrorail tracks, Cedar St NW and Eastern Ave NW. |
| GPM | 9800 | Federal/Land Use | Multi-Neighborhood Center | Fern Street NW, Georgia Ave NW, Aspen St NW |
| GPM | 9804 | Neighborhood Conservation Area | Enhanced /New Multi- Neighborhood Center | Iowa Ave NW, Buchanan St NW, 14 St NW |
---
WARD 5
[top]
| | | | | |
| --- | --- | --- | --- | --- |
| Map | Tracking Number | Current Density | Proposed Density | Parcel ID |
| FLUM | 649 | Institutional | Mixed Use Moderate Density Residential/Institutional | 14th St NE between Otis and Taylor – Franciscan Monastery |
| FLUM | 1641 | Production, Distribution, and Repair | Mixed Use PDR, Medium Density Commercial, and Medium Density Residential | 1355 Okie Street, NE |
| FLUM | 1678 | Production, Distribution, and Repair | Mixed Use PDR, Medium Density Commercial, and Medium Density Residential | 1900 Gallaudet Street, NE |
| FLUM | 1691 | Mixed use Moderate Density Commercial/Medium Density Residential/Parks, Recreation, and Open Space | Mixed use High Density Commercial/Medium Density Residential/Parks, Recreation, Open Space | 2501 1st ST NW – McMillan Park |
| FLUM | 1708.2 | Mixed use Low and Moderate Density | Low Density Commercial/Medium Density Residential/Local Public Facilities | Takoma Metro Station between Cedar NW, Eastern Ave NW, and metro rails |
| FLUM | 1739 | Production, Distribution, and Repair and Mixed Use Medium Density Residential | Mixed Use Medium Density Commercial and High Density Residential | 1050 Brentwood RD NE Between Bryant ant T |
| FLUM | 1866 | Mixed-use Moderate Density Commercial/Moderate Density Residential/Low Density Residential | Mixed-use Moderate Density Commercial and Medium Density Residential | 901 Monroe ST NE – near Brookland Metro |
| FLUM | 1906 | Production, Distribution, and Repair | Mixed Use Residential/Commercial | Perry Place NE, 10th St NE, Michigane Ave NE, and metro tracks – Brookland Metro |
| FLUM | 1973 | Mixed use Medium Density Residential/Moderate Density Commercial | Mixed use High Density Residential/Medium Density Commercial | Rhode Island Ave between 4th ST NE and tracks – Rhode Island Ave Metro |
| FLUM | 2061.5 | Production, Distribution, and Repair | Mixed use PDR and Medium Density Residential/add Medium Density Residential to PDR/Moderate Density Commercial | Blandenburg Rd NE between V NE and Channing |
| FLUM | 2072 | Production, Distribution, and Repair | Mixed Use PDR, Medium Density Commercial, and Medium Density Residential | 1900 Fenwick St NE between Gallauded and Okie |
| FLUM | 2081 | Low Density Commercial | Moderate Density Commercial | 4950 South Dakota Ave NE |
| FLUM | 2108 | Parks and Public Space | Moderate Density (correction) | Between Hawaii Ave NE/N Capito St, Allison St NE, and Rock Creek Church Rd NW – ERROR? |
| FLUM | 2122 | Residential | Parks and Public Space (correction) | Corner of Weber St NW and Rock Creek Church NW |
| FLUM | 2170 | Institutional | Institutional/Moderate Density Residential | 1200 Varnum St NE – St. Joseph's Society |
| FLUM | 2191 | Moderate Density Residential/Low Density Commercial/Moderate Density | Low Density Commercial/Medium Density Residential/Local Public Facilities | Between Brentwood Rd NE, Saratoga Rd NE, Montana Ave NE, Rhode Island Ave NE |
| FLUM | 2348 | Institutional | Moderate Density Residential/Institutional | 14th St NE south of Taylor – Howard School of Divinity |
| FLUM | 2363.1 | Institutional | Medium Density Commercial/Medium Density Residential | Georgia Ave between Gresham St NW and Florida Ave – Howard University |
| FLUM | 2363.2 | Institutional | Moderate Density Commercial/Medium Density Residential | Georgia Ave between Gresham St NW and Florida Ave – Howard University |
| FLUM | 2426 | Low Density Commercial/Moderate Density Residential | Low Density Commercial/Medium Density Residential | 1511 – 1625 Franklin Street, NE |
| FLUM | 2430 | Main Street Mixed Use Corridor/Neighborhood Conservation Area | Low Density Commercial/Moderate Density Residential | 5151 Wisconsin Ave NW |
| FLUM | 2451 | Low Density Commercial | Low Density Commercial/Moderate Density Residential | 201 Michigane Ave NE |
| FLUM | 2463 | Production, Distribution, and Repair/Moderate Density Residential/Local Public Facilities | Moderate Density Commercial | South of Brookland Metro |
| FLUM | 2503 | Moderate Density Residential | Medium Density Residential | Brentwood Rd NE and 14th St NE |
| FLUM | 9803 | Moderate Density Commercial/Production Distribution and Repair | Medium Density Commercial/ Medium Density Residential | 10th St NE, Michigan Ave NE, 9th St NE and Perry St NE |
| FLUM | 9815 | Production, Distribution, and Repair | High Density Commercial/High Density Residential/PDR | New York Ave NE between Florida Ave NE and 36th Pl NE |
| FLUM | 9934 | Low Density Residential | Moderate Density Commercial, Medium Density Residential | N St NW, North Capitol St NW, O St NW and 1st St NW |
| FLUM | 9941 | Low Density Commercial, Moderate Density Residential | Moderate Density Commercial, Medium Density Residential | Western side of North Capitol St NW between Quincy Pl NW and Florida Ave NW |
| FLUM | 9946 | Parks, Recreation and Open Space | Medium Density Commercial, Medium Density Residential | Western side of 1st Pl NE at the corner of Riggs Rd NE |
| FLUM | 9974 | Federal | Medium Density Commercial, Medium Density Residential | North Capitol St NW, Irving St NW |
| FLUM | 9983 | Low Density Commercial, Moderate Density Residential | Moderate Density Commercial, Medium Density Residential | Benning Road NE from H Street NE to Oklahoma Avenue NE |
| FLUM | 9997 | Moderate Density Commercial, Moderate Density Residential | Medium Density Commercial, Medium Density Residential | Michigan Ave NE, 7th St NE, 10th St NE, Monroe St NE |
| GPM | 2416.1 | unclear | 3 changes: 1) Complete the square of Main Street Corridors at North Capitol/Florida Ave./P St. NE; 2) Add a Main Street Corridor on 5th St. NE from the Metropolitan Branch Trail to Rhode Island Ave.; and 3) Prepare for land use change along the Metropolit | 3 changes: 1) Complete the square of Main Street Corridors at North Capitol/Florida Ave./P St. NE; 2) Add a Main Street Corridor on 5th St. NE from the Metropolitan Branch Trail to Rhode Island Ave.; and 3) Prepare for land use change along the Metropolit |
| GPM | 9817 | Neighborhood Conservation Area | Land Use Change Area | Intersection of North Capitol St and Irving St (cloverleaf southeast of AFRH site) |
| GPM | 9950 | Neighborhood Conservation Area | Main Street Mixed Use Corridor | Benning Rd NE between 15th St NE and 18th St NE |
| GPM | 9970 | Neighborhood Commercial Center | Neighborhood Conservation Areas | Perry Pl NE, 10 St NE |
| GPM | 9972 | Land Use Change Areas | Parks | Eastern Ave NE, Bladensburg Rd NE, Rives Station Rd NE |
| GPM | 9973 | Neighborhood Commercial Center | Neighborhood Conservation Area | Bladensburg Rd NE, 35th St NE, Summit Ct NE, Banneker Dr NE |
---
WARD 6
[top]
| | | | | |
| --- | --- | --- | --- | --- |
| Map | Tracking Number | Current Density | Proposed Density | Parcel ID |
| FLUM | 179 | Low Density Commercial and Moderate Density Residential | Medium Density Commercial and Medium Density Residential | 7th St between Rhode Island and P St. |
| FLUM | 302 | Moderate Density Residential and Medium Density Commercial/Medium Density Residential | Medium Density Commercial/Medium Density Residential | S St NW  between 6th & 7th – ONE DC's old office |
| FLUM | 1119 | Medium Density Residential | Medium Density Commercial and Medium Density Residential | L St. Between 7th and 7th – McCullough Terrace Apts. |
| FLUM | 2101 | Institutional | Mixed Use Moderate Density Residential and Low Density Commercial | Northwest corner of 6th St SW and I St SW |
| FLUM | 2103 | Low Density Commercial | Mixed use Medium Density Residential/Medium Density Commercial | 807 Maine Ave – Disabled American Veterans |
| FLUM | 2215 | Moderate Density Residential | Medium Density Commercial/Medium Density Residential | 8th ST NW – Heritage at Shaw Station |
| FLUM | 2229 | Moderate Density Residential | Medium Density Residential | 801-811 R ST NW  – low-income housing |
| FLUM | 2418 | Neighborhood Mixed-use Navy Yard | Mixed Use Medium Density Commercial | 8th St SE between L and M |
| FLUM | 9815 | Production, Distribution, and Repair | High Density Commercial/High Density Residential/PDR | New York Ave NE between Florida Ave NE and 36th Pl NE |
| FLUM | 9901 | Moderate Density Residential | Medium Density Residential | Interstate 695, 10th St SE, 9th St SE and I St SE |
| FLUM | 9902 | Federal, Moderate Density Residential | Moderate Density Commercial, Moderate Density Residential | Interstate 695, 9th St SE, 8th St SE and I St SE |
| FLUM | 9903 | Low Density Commercial | Low Density Commercial, Medium Density Residential | Eastern half of the block between 14th St SE, E St SE, 13th St SE and D St SE |
| FLUM | 9908 | Medium Density Commercial, Medium Density Residential | High Density Commercial, High Density Residential | New York Ave NW, New Jersey Ave NW, I St NW, 4th St NW |
| FLUM | 9910 | Moderate Density Residential | Medium Density Commercial, High Density Residential | Northwest corner of the block between 1st St NW, North Capitol St NW, M St NW and K St NW |
| FLUM | 9913 | High Density Commercial | High Density Commercial, High Density Residential | L'Enfant Promenade SW, Interstate 395, 9th St SW, Virginia Ave SW |
| FLUM | 9914 | High Density Commercial | High Density Commercial, High Density Residential | Interstate 395, 7th St SW, C St SW |
| FLUM | 9920 | Moderate Density Residential | Low Density Commercial, Medium Density Residential | Eastern side of 7th St SW between I St SW and Maine Ave SW |
| FLUM | 9921 | Local Public Facilities | Medium Density Commercial, Medium Density Residential and Local Public Facilities | Delaware Ave SW, L St SW, M St SW and 1st St SW |
| FLUM | 9922 | Local Public Facilities | High Density Commercial, High Density Residential and Local Public Facilities | 1st St SW, Howison Pl SW and L St SW |
| FLUM | 9923 | Local Public Facilities | High Density Commercial, High Density Residential and Local Public Facilities | M St SW, Howison Pl SW, L St SW and Half St SW |
| FLUM | 9924 | Local Public Facilities | Medium Density Residential, Local Public Facilities | Western side of Half St SW between K St SW and L St SW |
| FLUM | 9925 | Institutional, Medium Density Commercial | Medium Density Commercial, High Density Residential | Water St SE, M St SE and 12th St SE |
| FLUM | 9927 | Moderate Density Residential | Low Density Commercial, Medium Density Residential | Northwest corner of the block between Makemie Pl SW, K St SW, I St SW and 4th St SW |
| FLUM | 9928 | Moderate Density Residential | Low Density Commercial, Medium Density Residential | Northeast corner of the block between Wesley Pl SW, 4th St SW, I St SW and K St SW |
| FLUM | 9929 | Moderate Density Residential | Low Density Commercial, High Density Residential | Delaware Ave SW, 3rd St SW, L St SW and M St SW |
| FLUM | 9930 | Medium Density Residential | Low Density Commercial, High Density Residential | Delaware Ave SW, Canal St SW and M St SW |
| FLUM | 9931 | Moderate Density Residential | Medium Density Residential | L St SW, 3rd St SW, I St SW and Delaware Ave SW |
| FLUM | 9983 | Low Density Commercial, Moderate Density Residential | Moderate Density Commercial, Medium Density Residential | Benning Road NE from H Street NE to Oklahoma Avenue NE |
| GPM | 83 | Boundary change | Shift the boundary line of the Central Employment Area one block south from I Street SW, between 6th and 3rd Streets SW. | One block south from I Street SW, between 6th and 3rd Streets SW. |
| GPM | 9801 | Land Use Change Area | Central Washington | R St NE, 7th St NW, Massachusetts Ave NW, 2nd St NE |
| GPM | 9805 | Federal | Central Washington | Independence Ave SW, 12 St SW,  L'Enfant Promenade SW |
| GPM | 9806 | Neighborhood Land Use Change Area | Regional Centers | 2nd St SW, Potomac Ave SW, First St SW, T St SW (Audi Field Site) |
| GPM | 9949 | Neighborhood Conservation Area | Main Street Mixed Use Corridor | Pennsylvania Ave SE between 8th St SE and 13th St SE |
| GPM | 9950 | Neighborhood Conservation Area | Main Street Mixed Use Corridor | Benning Rd NE between 15th St NE and 18th St NE |
| GPM | 9951 | Parks | Neighborhood Conservation Area | Maryland Ave NE, 7th St NE, D St NE, and 8th St NE |
| GPM | 9952.1 | Institutional | Neighborhood Conservation Area | 2nd St NE, I St NE, 3rd St NE, mid-way to U St NE |
| GPM | 9952.2 | Institutional | Main Street Mixed Use Corridor | 2nd St NE, 3rd St NE, U St NE, mid-way to I St NE |
| GPM | 9956 | Neighborhood Conservation Area | Land Use Change Area | 3rd St SW, I St SW, Half St SW, Delaware Ave SW |
| GPM | 9957 | Institutional | Neighborhood Conservation Area | Northeast corner of I St SW, 6th St SW |
| GPM | 9958 | Neighborhood Conservation and Land Use Change Area | Federal Lands | P St SW, 2nd St SW, 1st Ave SW |
| GPM | 9959 | Land Use Change | Neighborhood Commercial Center | M St SW, K St SW, 4th St SW |
| GPM | 9960 | Land Use Change Area | Regional Center | 12 St SW, 6th St SW, Maine Ave SW, Washington Channel (District Wharf) |
| GPM | 9961 | Land Use Change Area | Regional Center | Potomac Ave SE, 1st St SE, South Capitol St SE, M St SE |
| GPM | 9962 | Land Use Change Area | Neighborhood Conservation Area | 2nd St SE, M St SE, 5th St SE, Virginia Ave SE |
| GPM | 9963 | Land Use Change Area | Regional Center | M St SE, 1st St SE, Isaac Hull Ave SE, Anacostia River |
| GPM | 9964 | Land Use Change Area | Neighborhood Conservation Area | O St SE, Tingey St SE |
| GPM | 9999 | Land Use Change Area | Neighborhood Enhancement Area | M St SW, Q St SW, 2nd St SW, Anacostia River |
---
WARD 7
[top]
| | | | | |
| --- | --- | --- | --- | --- |
| Map | Tracking Number | Current Density | Proposed Density | Parcel ID |
| FLUM | 1542 | Mixed-use Medium Density | Medium Density Residential/Medium Density Commercial/Local Public Facilities | 4500 Benning Rd. NE – Benning Rd Metro |
| FLUM | 1679 | Production, Distribution, and Repair | Low Density Commercial/Medium Density Residential/Local Public Facilities | 4812 Minnesota Ave NE – Deanwood Metro area |
| FLUM | 1971 | Low Density Commercial | Moderate Density Commercial | Pennsylvania Ave SE between Fairlawn Ave and 27th St SE |
| FLUM | 1975 | Mixed use Low Density Commercial/Moderate Density Residential | Mixed use Medium Density Commercial and Medium Density Residential | Nannie Helen Burroughs Ave NE, 51st ST NE, Hayes NE, Division Ave NE |
| FLUM | 1984 | Mixed use Moderate Density Commercial/Moderate Density Residential | Medium Density Commercial/Medium Density Residential | Benning Rd NE between A St SE and Blaine St NE – Benning Rd Metro |
| FLUM | 1996.1 | Mixed use Low Density Commercial/Moderate Density Residential | Mixed use Low Density Commercial/Medium Density Residential | Deanwood Metro |
| FLUM | 1996.2 | Mixed use Low Density Commercial/Moderate Density Residential | Mixed use Low Density Commercial/Moderate Density Residential | Deanwood Metro |
| FLUM | 2021 | Mixed use Moderate Density Commercial/Moderate Density Residential | Mixed use Medium Density Commercial/Medium Density Residential | Nannie Helen Burroughs Ave between Minnesota Ave and west side of 44th st |
| FLUM | 2035 | Mixed use Medium Density Commercial/Moderate Density Residential | Mixed use Medium Density Commercial/Medium Density Residential | Minnesota Ave and Benning Rd |
| FLUM | 2728 | Medium Density | Medium Density Commercial/Medium Density Residential/Local Public Utilities | Benning Road Metro (repeat?) |
| FLUM | 9816 | Moderate Density Residential | Moderate Density Commercial, Medium Density Residential | Benning Rd SE between 46th St SE and A St SE |
| FLUM | 9916 | Moderate Density Residential | Low Density Commercial, Moderate Density Residential | Both sides of Sheriff Rd NE between 46th St NE and 48th St NE |
| FLUM | 9917 | Moderate Density Residential | Moderate Commercial, Moderate Density Residential | Southeast corner of Benning Rd SE and H St SE |
| FLUM | 9918 | Low Density Commercial, Parks, Recreation and Open Space, Low Density Residential and Moderate Density Residential | Moderate Density Commercial and Medium Density Residential | Both sides of East Capitol St SE and NE, Southern Ave SE, 58th St NE and both sides of Blaine St NE |
| FLUM | 9979 | Local Public Facilities | Moderate Density Commercial, Moderate Density Residential | C St SE, 49th St SE, 46th St SE, and eastern side of Benning Rd SE |
---
WARD 8
[top]
| | | | | |
| --- | --- | --- | --- | --- |
| Map | Tracking Number | Current Density | Proposed Density | Parcel ID |
| FLUM | 1587 | Low Density Residential | Moderate Density Residential | 4100 Blocks of Martin Luther King Jr. Ave SE and 2nd St SW between Brandywine and Chesapeake |
| FLUM | 2275 | Parks, Recreation, and Open Space or mixed-use, Medium Density Commercial/High Density Residential/Institutional | Mixed-Use, High Density Commercial/High Density Residential/Institutional | Square/Lot(s): 5860; 5788/PAR 0231 0011; Square 5860, Lot 1022; Square 5788, Lot 0817 |
| FLUM | 2334 | Institutional | Institutional and Medium Density Residential | 1600 Morris Rd SE (Square 5817, Lot 803) |
| FLUM | 2344.1 | Production, Distribution, and Repair | Mixed use Medium Density Commercial, Medium Density Residential, PDR | Martin Luther King Jr. Ave SE between Good Hope Rd and 15th St SE |
| FLUM | 9975 | Low Density Commercial | Moderate Density Commercial | Both sides of Good Hope Road SE between 18th St SE and Minnesota Ave SE |
| FLUM | 9978 | Low Density Residential | Moderate Density Residential | Martin Luther King Jr Ave SW and 2nd Street SW |
| GPM | 9955 | Neighborhood Commercial Center | Neighborhood Conservation Areas | Wheeler Rd SE, Wahler Pl SE, Barnaby Ter SE |
---
UNCLEAR BY THE DATA
[top]
| | | | | |
| --- | --- | --- | --- | --- |
| Map | Tracking Number | Current Density | Proposed Density | Parcel ID |
| GPM | 1746 | unclear | Unclear (attached PDF) | Unclear (attached PDF) |
| GPM | 2343 | unclear | Moderate Density Commercial and Moderate Density Residential | unclear |
| GPM | 2361.1 | unclear | unclear | unclear |
| GPM | 2361.2 | unclear | unclear | unclear |
| GPM | 2361.3 | unclear | unclear | unclear |
| GPM | 9818 | Add the proposed State of Washington, Douglass Comonwealth | n/a | See GPM |
| GPM | 9819 | Add new layer for Future Planning Analysis Areas | n/a | See GPM |
| GPM | 9820 | Add new layer for Resilience Focus Areas | n/a | See GPM |
---
ALL WARDS
[top]
| | | | | | | |
| --- | --- | --- | --- | --- | --- | --- |
| Map | Tracking Number | Current Density | Proposed Density | Parcel ID | Ward | Missing Information |
| FLUM | 707 | Mixed-Use Moderate Density | Striped / Local Public Facilities / Moderate Density Commercial / Medium Density Residential | 1617 U Street NW | 1 | |
| FLUM | 1114 | Mixed-use Low Density Commercial and Moderate Density Residential | Mixed-use Moderate Density Commercial and Medium Density Residential | 3540 14TH ST NW – Exxon gas station | 1 | |
| FLUM | 2130 | Moderate Density Residential | Medium Density Residential | Corner of Belmont ST NW and 13th St NW | 1 | |
| FLUM | 9811 | Institutional | Medium Density Commercial/High Density Residential /Institutional | Georgia Ave NW, W St NW, Elm St NW and 6th St NW | 1 | |
| FLUM | 9812 | Institutional | Medium Density Commercial/Medium Density Residential/Institutional | 5th St NW, Elm St NW, 6th St NW and W St NW | 1 | |
| FLUM | 9813 | Medium Density Commercial/Medium Density Residential | Medium Density Commercial/Medium Density Residential/Local Public Utilities | Eastern side of block between V St NW, U St NW, 14th St NW and 13th St NW | 1 | |
| FLUM | 9933.1 | Institutional | Moderate Density Residential | Southeast half of the block between Georgia Ave NW, Columbia Rd NW, Sherman Ave NW, Irving St NW | 1 | |
| FLUM | 9933.2 | Institutional | Moderate Density Commercial, Medium Density Residential | Northeast half of the block between Georgia Ave NW, Columbia Rd NW, Sherman Ave NW, Irving St NW | 1 | |
| FLUM | 9980 | Medium Density Residential | Low Density Commercial, Medium Density Residential | Southwest corner of 17th St NW, Mt Pleasant St NW and Park Rd NW | 1 | |
| GPM | 55 | Neighborhood Conservation Area | Main Street Mixed Use Corridor | Square/Lot(s): 3038/57, 58, 59, 60, 82, & 83 | 1 | |
| FLUM | 263 | Unzoned | High Density Residential | 1051-1055 29th Street NW – West Heating Plant | 2 | |
| FLUM | 1744 | Institutional | Neighborhood Conservation Area | 601 24th St NW – GWU | 2 | |
| FLUM | 9810 | Moderate Density Commercial/ModerateDensity Residential | Moderate Density Commercial/Medium Density Residential | Both sides of 11th St NW between O St NW and M St NW | 2 | |
| FLUM | 9935 | Low Density Commercial, Moderate Density Residential | Moderate Density Commercial, Medium Density Residential | North Capitol St NW, Bates St NW, Q St NW and Florida Ave NW | 2 | |
| FLUM | 9938 | Moderate Density Residential | Moderate Density Commercial, Moderate Density Residential | Both sides of 11th St NW between O St NW and R St NW | 2 | |
| FLUM | 9981 | Federal | High Density Commercial | Pennsylvania Ave NW, E St NW, 9th St NW, 10th St NW | 2 | |
| FLUM | 9982 | Federal | High Density Commercial | Constitution Ave NW, 3rd St NW, 2nd St NW, E St NW | 2 | |
| GPM | 9809 | Land Use Change Area | Central Washington | New York Ave NW, H St NW, 11 St NW, 9th St NW (Old Convention Center Site) | 2 | |
| GPM | 9989 | Institutional | Neighborhood Conservation Area | Virginia Ave NW, E St Expy, 25th St NW | 2 | |
| FLUM | 151.1 | High Density infringing onto Moderate Density RA-2 Zone; map incorrectly shows Square as medium density instead of moderate density | Corrected to show High Density Residential only in zone RA-4 and moderate density for the rest | 29th NW, 24th NW Between Calvert and Woodley – Sheraton Hotel block | 3 | |
| FLUM | 180 | Moderate Density Commercial | Medium Density Commercial | Connecticut Ave between Van Ness and Albermarle St. | 3 | |
| FLUM | 1690 | Low Density Residential | Medium Density Residential | 3415 Yuma St NW – UDC | 3 | |
| FLUM | 2095 | Low Density Commercial | Mixed use Low Density Commercial/Medium Density Residential | 4545 42ND ST NW | 3 | |
| FLUM | 2123 | Low Density Commercial | Moderate Density Commercial | Connecticut Ave between Macomb St NW and Porter ST. NW – Cleveland Park Metro | 3 | |
| FLUM | 2154.1 | Mixed use Medium Density Residential/Medium Density Commercial | High Density Residential/High Density Commercial | Wisconsin Ave NW, Western Ave, and Jennifer ST. – Friendship Heights Metro/Mazza Gallerie | 3 | |
| FLUM | 2154.21 | Mixed use Medium Density Residential/Medium Density Commercial | High Density Residential/High Density Commercial | Wisconsin Ave NW, Western Ave, and Jennifer ST. – Friendship Heights Metro/Mazza Gallerie | 3 | |
| FLUM | 2154.3 | Mixed use Medium Density Residential/Medium Density Commercial | High Density Residential/High Density Commercial | Wisconsin Ave NW, Western Ave, and Jennifer ST. – Friendship Heights Metro/Mazza Gallerie | 3 | |
| FLUM | 2155.1 | Mixed use Moderate Density Residential/ Low Density Commercial / Low Density Residential | Mixed use Medium Density Residential/Moderate Density Commercial | Wisconsin Ave NW between Friendship Heights and Tenleytown Metro | 3 | |
| FLUM | 2155.11 | Mixed use Moderate Density Residential/ Low Density Commercial / Low Density Residential | Mixed use Medium Density Residential/Moderate Density Commercial | Wisconsin Ave NW between Friendship Heights and Tenleytown Metro | 3 | |
| FLUM | 2155.12 | Mixed use Moderate Density Residential/Low Density Commercial | Medium Density Residential/Low Density Commercial | Wisconsin Ave NW between Friendship Heights and Tenleytown Metro | 3 | |
| FLUM | 2155.13 | unclear upzoning | unclear upzoning | Wisconsin Ave NW between Friendship Heights and Tenleytown Metro | 3 | X |
| FLUM | 2155.14 | unclear upzoning | unclear upzoning | Wisconsin Ave NW between Friendship Heights and Tenleytown Metro | 3 | X |
| FLUM | 2155.2 | Mixed use Moderate Density Residential/Low density commercial | Mixed use Medium Density Residential/moderate density commercial | Wisconsin Ave NW between Friendship Heights and Tenleytown Metro | 3 | |
| FLUM | 2155.5 | Moderate Density Residential/Low Density Commercial | Medium Density Residential/Low Density Commercial | Wisconsin Ave NW between Friendship Heights and Tenleytown Metro | 3 | |
| FLUM | 2155.6 | Moderate Density Residential/Low Density Commercial | Medium Density Residential/Low Density Commercial | Wisconsin Ave NW between Friendship Heights and Tenleytown Metro | 3 | |
| FLUM | 2155.8 | Parks and Public Space/Low Density Commercial/Medium Density Residential/Medium Density Commercial | All Medium Density Residential/Medium Density Commercial | Wisconsin Ave NW between Friendship Heights and Tenleytown Metro | 3 | |
| FLUM | 2155.9 | Medium Density Residential/Medium Density Commercial | High Density Residential/Medium Density Comemrcial | Wisconsin Ave NW between Friendship Heights and Tenleytown Metro | 3 | |
| FLUM | 2238 | Low Density Commercial | Low Density Commercial/Moderate Density Residential | Connecticut Ave between  Morrison and Livingston | 3 | |
| FLUM | 2322 | Moderate Density Residential/Low Density Commercial | Medium Density Residential/Moderate Density Commercial | Wisconsin Ave NW between Brandywaine, Chesapeake, and 42nd St | 3 | |
| FLUM | 2382 | Low Density Commercial | Low Density Commercial/Moderate Density Residential | 5630Connecticut Avenue, NW | 3 | |
| FLUM | 2570 | Low Density Commercial | Low Density Commercial/Medium Density Residential | Mass Ave NW and Fordham | 3 | |
| FLUM | 2795 | unclear | Moderate Density Commercial/Medium Density Residential | Wisconsin Ave between Rodman and Yuma | 3 | X |
| FLUM | 2803 | unclear | Medium Density Residential/Moderate Density Commercial | Wisconsin Ave between Lowell and Idaho | 3 | X |
| FLUM | 9807 | Low Density Commercial | Low Density Residential | Western side of Connecticut Ave NW on Ordway St NW | 3 | |
| FLUM | 9814 | Moderate Density Residential | Moderate Density Commercial/Medium Density Residential | Wisconsin Ave NW, Newark St NW, 39th St NW and Upton St NW | 3 | |
| FLUM | 9821 | Local Public Facilities | Low Density Commercial, Medium Density Residential, Local Public Facilities | Eastern side of Connecticut Ave between McKinley St NW and Northampton St NW | 3 | |
| FLUM | 9822 | Low Density Commercial | Low Density Commercial, High Density Residential | Both sides of Connecticut Ave NW between Calvert St NW and Woodley Rd NW | 3 | |
| FLUM | 9945 | Institutional | Medium Density Residential, Institutional | Soapstone Valley Park and Upton St NW | 3 | |
| FLUM | 9976 | Moderate Density Commercial, Medium Density Residential | Medium Density Commercial, Medium Density Residential | Brandywine St NW, 41st St NW, Chesapeake St NW and Fort Dr NW | 3 | |
| FLUM | 9977 | Moderate Density Residential | Low Density Commercial, Moderate Density Residential | Western side of North Capitol St NW between R St NW and Randolph Pl NW | 3 | |
| GPM | 9968 | Institutional | Neighborhood Commercial Center | New Mexico Ave NW, Sutton Pl NW, Lowell St NW | 3 | |
| GPM | 9969 | Institutional | Neighborhood Conservation Area | Western Ave NW, Military Rd NW | 3 | |
| FLUM | 84 | Moderate Density Residential | Mixed-use Medium Density Commercial/Medium Density Residential | 7700 – 7730 EASTERN AVE NW | 4 | |
| FLUM | 1359 | Low Density Residential | Mixed Use Moderate Density Residential and Low Density Commercial | Chillum Pl NE between Kansas and Sligo Mill Rd | 4 | |
| FLUM | 1360 | Mixed-use Low Density Commercial and Moderate Density Residential | Mixed-use Medium Density Commercial and Medium Density Residential | Eastern Ave NW between Georgia and 12th | 4 | |
| FLUM | 1696 | Mixed use Low Density Commercial/Moderate Density Residential | Low Density Residential | Fern Street/Floral Street NW Between 12th and Alaska | 4 | |
| FLUM | 1708.1 | Mixed use Low and Moderate Density | Low Density Commercial/Medium Density Residential/Local Public Facilities | Takoma Metro Station between Cedar NW, Eastern Ave NW, and metro rails | 4 | |
| FLUM | 2377 | Moderate Density | Low Density Commercial/Moderate Density Residential | Willow St NW between Aspen and Eastern Ave | 4 | |
| FLUM | 2511 | Low Density Residential | Low Density Residential (correction) | Kalmia Rd. Between Shepherd Park between 12th St NW and Georgia Ave | 4 | |
| FLUM | 2927 | Local Public Facility | Moderate Density Residential/Low Density Commercial/LPF | 4701 14TH ST NW – WMATA Northern Bus Station | 4 | |
| FLUM | 9942 | Low Density Commercial, Moderate Density Residential | Moderate Density Commercial, Moderate Density Residential | Western side of 14th St NW between Buchanan St NW and Decatur St NW; Allison St NW, 14th St NW, Arkansas Ave NW and Buchanan St NW | 4 | |
| FLUM | 9943 | Local Public Facilities | Moderate Density Residential | 10th St NW, Quebec Pl NW, 13th St NW and Spring Rd NW | 4 | |
| FLUM | 9984 | Federal | Moderate Density Commercial,Moderate Density Residential | Walter Reed. See Recommended Future Land Use Map | 4 | |
| FLUM | 9985 | Federal | Medium Density Residential | Walter Reed. See Recommended Future Land Use Map | 4 | |
| FLUM | 9986 | Federal | Low Density Commercial, Moderate Density Residential | Walter Reed. See Recommended Future Land Use Map | 4 | |
| FLUM | 9987 | Federal | Moderate Density Residential | Walter Reed. See Recommended Future Land Use Map | 4 | |
| FLUM | 9988 | Federal | Moderate Density Commercial, Medium Density Residential, Parks, Recreation and Open Space | Walter Reed. See Recommended Future Land Use Map | 4 | |
| FLUM | 9989 | Federal | Medium Density Commercial, Medium Density Residential | Walter Reed. See Recommended Future Land Use Map | 4 | |
| FLUM | 9990 | Federal | Moderate Density Commercial, Medium Density Residential | Walter Reed. See Recommended Future Land Use Map | 4 | |
| FLUM | 9991 | Federal | Moderate Density Commercial, Medium Density Residential, Parks, Recreation and Open Space | Walter Reed. See Recommended Future Land Use Map | 4 | |
| FLUM | 9992 | Federal | Moderate Density Commercial, Moderate Density Residential, Institutional | Walter Reed. See Recommended Future Land Use Map | 4 | |
| FLUM | 9993 | Federal | Moderate Density Commercial, Medium Density Residential | Walter Reed. See Recommended Future Land Use Map | 4 | |
| FLUM | 9994 | Federal | Parks, Recreation and Open Space | Walter Reed. See Recommended Future Land Use Map | 4 | |
| FLUM | 9995 | Federal | Institutional | Walter Reed. See Recommended Future Land Use Map | 4 | |
| FLUM | 9996 | Federal | Medium Density Residential, Parks, Recreation and Open Space | Walter Reed. See Recommended Future Land Use Map | 4 | |
| GPM | 1695 | Maintain neighborhood conservation area | n/a | Shepherd Park, Colonial Village and North Portal Estates. | 4 | |
| GPM | 1713 | Amend the Generalized Policy Map to include all of the site in the Neighborhood Enhancement Area | n/a | Neighboring streets: Takoma Metro station site bounded generally by the Red Line Metrorail tracks, Cedar St NW and Eastern Ave NW. | 4 | |
| GPM | 9800 | Federal/Land Use | Multi-Neighborhood Center | Fern Street NW, Georgia Ave NW, Aspen St NW | 4 | |
| GPM | 9804 | Neighborhood Conservation Area | Enhanced /New Multi- Neighborhood Center | Iowa Ave NW, Buchanan St NW, 14 St NW | 4 | |
| FLUM | 649 | Institutional | Mixed Use Moderate Density Residential/Institutional | 14th St NE between Otis and Taylor – Franciscan Monastery | 5 | |
| FLUM | 1641 | Production, Distribution, and Repair | Mixed Use PDR, Medium Density Commercial, and Medium Density Residential | 1355 Okie Street, NE | 5 | |
| FLUM | 1678 | Production, Distribution, and Repair | Mixed Use PDR, Medium Density Commercial, and Medium Density Residential | 1900 Gallaudet Street, NE | 5 | |
| FLUM | 1691 | Mixed use Moderate Density Commercial/Medium Density Residential/Parks, Recreation, and Open Space | Mixed use High Density Commercial/Medium Density Residential/Parks, Recreation, Open Space | 2501 1st ST NW – McMillan Park | 5 | |
| FLUM | 1708.2 | Mixed use Low and Moderate Density | Low Density Commercial/Medium Density Residential/Local Public Facilities | Takoma Metro Station between Cedar NW, Eastern Ave NW, and metro rails | 5 | |
| FLUM | 1739 | Production, Distribution, and Repair and Mixed Use Medium Density Residential | Mixed Use Medium Density Commercial and High Density Residential | 1050 Brentwood RD NE Between Bryant ant T | 5 | |
| FLUM | 1866 | Mixed-use Moderate Density Commercial/Moderate Density Residential/Low Density Residential | Mixed-use Moderate Density Commercial and Medium Density Residential | 901 Monroe ST NE – near Brookland Metro | 5 | |
| FLUM | 1906 | Production, Distribution, and Repair | Mixed Use Residential/Commercial | Perry Place NE, 10th St NE, Michigane Ave NE, and metro tracks – Brookland Metro | 5 | |
| FLUM | 1973 | Mixed use Medium Density Residential/Moderate Density Commercial | Mixed use High Density Residential/Medium Density Commercial | Rhode Island Ave between 4th ST NE and tracks – Rhode Island Ave Metro | 5 | |
| FLUM | 2061.5 | Production, Distribution, and Repair | Mixed use PDR and Medium Density Residential/add Medium Density Residential to PDR/Moderate Density Commercial | Blandenburg Rd NE between V NE and Channing | 5 | |
| FLUM | 2072 | Production, Distribution, and Repair | Mixed Use PDR, Medium Density Commercial, and Medium Density Residential | 1900 Fenwick St NE between Gallauded and Okie | 5 | |
| FLUM | 2081 | Low Density Commercial | Moderate Density Commercial | 4950 South Dakota Ave NE | 5 | |
| FLUM | 2108 | Parks and Public Space | Moderate Density (correction) | Between Hawaii Ave NE/N Capito St, Allison St NE, and Rock Creek Church Rd NW – ERROR? | 5 | |
| FLUM | 2122 | Residential | Parks and Public Space (correction) | Corner of Weber St NW and Rock Creek Church NW | 5 | |
| FLUM | 2170 | Institutional | Institutional/Moderate Density Residential | 1200 Varnum St NE – St. Joseph's Society | 5 | |
| FLUM | 2191 | Moderate Density Residential/Low Density Commercial/Moderate Density | Low Density Commercial/Medium Density Residential/Local Public Facilities | Between Brentwood Rd NE, Saratoga Rd NE, Montana Ave NE, Rhode Island Ave NE | 5 | |
| FLUM | 2348 | Institutional | Moderate Density Residential/Institutional | 14th St NE south of Taylor – Howard School of Divinity | 5 | |
| FLUM | 2363.1 | Institutional | Medium Density Commercial/Medium Density Residential | Georgia Ave between Gresham St NW and Florida Ave – Howard University | 5 | |
| FLUM | 2363.2 | Institutional | Moderate Density Commercial/Medium Density Residential | Georgia Ave between Gresham St NW and Florida Ave – Howard University | 5 | |
| FLUM | 2426 | Low Density Commercial/Moderate Density Residential | Low Density Commercial/Medium Density Residential | 1511 – 1625 Franklin Street, NE | 5 | |
| FLUM | 2430 | Main Street Mixed Use Corridor/Neighborhood Conservation Area | Low Density Commercial/Moderate Density Residential | 5151 Wisconsin Ave NW | 5 | |
| FLUM | 2451 | Low Density Commercial | Low Density Commercial/Moderate Density Residential | 201 Michigane Ave NE | 5 | |
| FLUM | 2463 | Production, Distribution, and Repair/Moderate Density Residential/Local Public Facilities | Moderate Density Commercial | South of Brookland Metro | 5 | |
| FLUM | 2503 | Moderate Density Residential | Medium Density Residential | Brentwood Rd NE and 14th St NE | 5 | |
| FLUM | 9803 | Moderate Density Commercial/Production Distribution and Repair | Medium Density Commercial/ Medium Density Residential | 10th St NE, Michigan Ave NE, 9th St NE and Perry St NE | 5 | |
| FLUM | 9934 | Low Density Residential | Moderate Density Commercial, Medium Density Residential | N St NW, North Capitol St NW, O St NW and 1st St NW | 5 | |
| FLUM | 9941 | Low Density Commercial, Moderate Density Residential | Moderate Density Commercial, Medium Density Residential | Western side of North Capitol St NW between Quincy Pl NW and Florida Ave NW | 5 | |
| FLUM | 9974 | Federal | Medium Density Commercial, Medium Density Residential | North Capitol St NW, Irving St NW | 5 | |
| FLUM | 9997 | Moderate Density Commercial, Moderate Density Residential | Medium Density Commercial, Medium Density Residential | Michigan Ave NE, 7th St NE, 10th St NE, Monroe St NE | 5 | |
| GPM | 2416.1 | unclear | 3 changes: 1) Complete the square of Main Street Corridors at North Capitol/Florida Ave./P St. NE; 2) Add a Main Street Corridor on 5th St. NE from the Metropolitan Branch Trail to Rhode Island Ave.; and 3) Prepare for land use change along the Metropolit | 3 changes: 1) Complete the square of Main Street Corridors at North Capitol/Florida Ave./P St. NE; 2) Add a Main Street Corridor on 5th St. NE from the Metropolitan Branch Trail to Rhode Island Ave.; and 3) Prepare for land use change along the Metropolit | 5 | X |
| GPM | 9817 | Neighborhood Conservation Area | Land Use Change Area | Intersection of North Capitol St and Irving St (cloverleaf southeast of AFRH site) | 5 | |
| GPM | 9970 | Neighborhood Commercial Center | Neighborhood Conservation Areas | Perry Pl NE, 10 St NE | 5 | |
| GPM | 9972 | Land Use Change Areas | Parks | Eastern Ave NE, Bladensburg Rd NE, Rives Station Rd NE | 5 | |
| GPM | 9973 | Neighborhood Commercial Center | Neighborhood Conservation Area | Bladensburg Rd NE, 35th St NE, Summit Ct NE, Banneker Dr NE | 5 | |
| FLUM | 179 | Low Density Commercial and Moderate Density Residential | Medium Density Commercial and Medium Density Residential | 7th St between Rhode Island and P St. | 6 | |
| FLUM | 302 | Moderate Density Residential and Medium Density Commercial/Medium Density Residential | Medium Density Commercial/Medium Density Residential | S St NW  between 6th & 7th – ONE DC's old office | 6 | |
| FLUM | 1119 | Medium Density Residential | Medium Density Commercial and Medium Density Residential | L St. Between 7th and 7th – McCullough Terrace Apts. | 6 | |
| FLUM | 2101 | Institutional | Mixed Use Moderate Density Residential and Low Density Commercial | Northwest corner of 6th St SW and I St SW | 6 | |
| FLUM | 2103 | Low Density Commercial | Mixed use Medium Density Residential/Medium Density Commercial | 807 Maine Ave – Disabled American Veterans | 6 | |
| FLUM | 2215 | Moderate Density Residential | Medium Density Commercial/Medium Density Residential | 8th ST NW – Heritage at Shaw Station | 6 | |
| FLUM | 2229 | Moderate Density Residential | Medium Density Residential | 801-811 R ST NW  – low-income housing | 6 | |
| FLUM | 2418 | Neighborhood Mixed-use Navy Yard | Mixed Use Medium Density Commercial | 8th St SE between L and M | 6 | |
| FLUM | 9901 | Moderate Density Residential | Medium Density Residential | Interstate 695, 10th St SE, 9th St SE and I St SE | 6 | |
| FLUM | 9902 | Federal, Moderate Density Residential | Moderate Density Commercial, Moderate Density Residential | Interstate 695, 9th St SE, 8th St SE and I St SE | 6 | |
| FLUM | 9903 | Low Density Commercial | Low Density Commercial, Medium Density Residential | Eastern half of the block between 14th St SE, E St SE, 13th St SE and D St SE | 6 | |
| FLUM | 9908 | Medium Density Commercial, Medium Density Residential | High Density Commercial, High Density Residential | New York Ave NW, New Jersey Ave NW, I St NW, 4th St NW | 6 | |
| FLUM | 9910 | Moderate Density Residential | Medium Density Commercial, High Density Residential | Northwest corner of the block between 1st St NW, North Capitol St NW, M St NW and K St NW | 6 | |
| FLUM | 9913 | High Density Commercial | High Density Commercial, High Density Residential | L'Enfant Promenade SW, Interstate 395, 9th St SW, Virginia Ave SW | 6 | |
| FLUM | 9914 | High Density Commercial | High Density Commercial, High Density Residential | Interstate 395, 7th St SW, C St SW | 6 | |
| FLUM | 9920 | Moderate Density Residential | Low Density Commercial, Medium Density Residential | Eastern side of 7th St SW between I St SW and Maine Ave SW | 6 | |
| FLUM | 9921 | Local Public Facilities | Medium Density Commercial, Medium Density Residential and Local Public Facilities | Delaware Ave SW, L St SW, M St SW and 1st St SW | 6 | |
| FLUM | 9922 | Local Public Facilities | High Density Commercial, High Density Residential and Local Public Facilities | 1st St SW, Howison Pl SW and L St SW | 6 | |
| FLUM | 9923 | Local Public Facilities | High Density Commercial, High Density Residential and Local Public Facilities | M St SW, Howison Pl SW, L St SW and Half St SW | 6 | |
| FLUM | 9924 | Local Public Facilities | Medium Density Residential, Local Public Facilities | Western side of Half St SW between K St SW and L St SW | 6 | |
| FLUM | 9925 | Institutional, Medium Density Commercial | Medium Density Commercial, High Density Residential | Water St SE, M St SE and 12th St SE | 6 | |
| FLUM | 9927 | Moderate Density Residential | Low Density Commercial, Medium Density Residential | Northwest corner of the block between Makemie Pl SW, K St SW, I St SW and 4th St SW | 6 | |
| FLUM | 9928 | Moderate Density Residential | Low Density Commercial, Medium Density Residential | Northeast corner of the block between Wesley Pl SW, 4th St SW, I St SW and K St SW | 6 | |
| FLUM | 9929 | Moderate Density Residential | Low Density Commercial, High Density Residential | Delaware Ave SW, 3rd St SW, L St SW and M St SW | 6 | |
| FLUM | 9930 | Medium Density Residential | Low Density Commercial, High Density Residential | Delaware Ave SW, Canal St SW and M St SW | 6 | |
| FLUM | 9931 | Moderate Density Residential | Medium Density Residential | L St SW, 3rd St SW, I St SW and Delaware Ave SW | 6 | |
| GPM | 83 | Boundary change | Shift the boundary line of the Central Employment Area one block south from I Street SW, between 6th and 3rd Streets SW. | One block south from I Street SW, between 6th and 3rd Streets SW. | 6 | |
| GPM | 9806 | Neighborhood Land Use Change Area | Regional Centers | 2nd St SW, Potomac Ave SW, First St SW, T St SW (Audi Field Site) | 6 | |
| GPM | 9949 | Neighborhood Conservation Area | Main Street Mixed Use Corridor | Pennsylvania Ave SE between 8th St SE and 13th St SE | 6 | |
| GPM | 9951 | Parks | Neighborhood Conservation Area | Maryland Ave NE, 7th St NE, D St NE, and 8th St NE | 6 | |
| GPM | 9952.1 | Institutional | Neighborhood Conservation Area | 2nd St NE, I St NE, 3rd St NE, mid-way to U St NE | 6 | |
| GPM | 9952.2 | Institutional | Main Street Mixed Use Corridor | 2nd St NE, 3rd St NE, U St NE, mid-way to I St NE | 6 | |
| GPM | 9956 | Neighborhood Conservation Area | Land Use Change Area | 3rd St SW, I St SW, Half St SW, Delaware Ave SW | 6 | |
| GPM | 9957 | Institutional | Neighborhood Conservation Area | Northeast corner of I St SW, 6th St SW | 6 | |
| GPM | 9958 | Neighborhood Conservation and Land Use Change Area | Federal Lands | P St SW, 2nd St SW, 1st Ave SW | 6 | |
| GPM | 9959 | Land Use Change | Neighborhood Commercial Center | M St SW, K St SW, 4th St SW | 6 | |
| GPM | 9960 | Land Use Change Area | Regional Center | 12 St SW, 6th St SW, Maine Ave SW, Washington Channel (District Wharf) | 6 | |
| GPM | 9961 | Land Use Change Area | Regional Center | Potomac Ave SE, 1st St SE, South Capitol St SE, M St SE | 6 | |
| GPM | 9962 | Land Use Change Area | Neighborhood Conservation Area | 2nd St SE, M St SE, 5th St SE, Virginia Ave SE | 6 | |
| GPM | 9963 | Land Use Change Area | Regional Center | M St SE, 1st St SE, Isaac Hull Ave SE, Anacostia River | 6 | |
| GPM | 9964 | Land Use Change Area | Neighborhood Conservation Area | O St SE, Tingey St SE | 6 | |
| GPM | 9999 | Land Use Change Area | Neighborhood Enhancement Area | M St SW, Q St SW, 2nd St SW, Anacostia River | 6 | |
| FLUM | 1542 | Mixed-use Medium Density | Medium Density Residential/Medium Density Commercial/Local Public Facilities | 4500 Benning Rd. NE – Benning Rd Metro | 7 | |
| FLUM | 1679 | Production, Distribution, and Repair | Low Density Commercial/Medium Density Residential/Local Public Facilities | 4812 Minnesota Ave NE – Deanwood Metro area | 7 | |
| FLUM | 1971 | Low Density Commercial | Moderate Density Commercial | Pennsylvania Ave SE between Fairlawn Ave and 27th St SE | 7 | |
| FLUM | 1975 | Mixed use Low Density Commercial/Moderate Density Residential | Mixed use Medium Density Commercial and Medium Density Residential | Nannie Helen Burroughs Ave NE, 51st ST NE, Hayes NE, Division Ave NE | 7 | |
| FLUM | 1984 | Mixed use Moderate Density Commercial/Moderate Density Residential | Medium Density Commercial/Medium Density Residential | Benning Rd NE between A St SE and Blaine St NE – Benning Rd Metro | 7 | |
| FLUM | 1996.1 | Mixed use Low Density Commercial/Moderate Density Residential | Mixed use Low Density Commercial/Medium Density Residential | Deanwood Metro | 7 | |
| FLUM | 1996.2 | Mixed use Low Density Commercial/Moderate Density Residential | Mixed use Low Density Commercial/Moderate Density Residential | Deanwood Metro | 7 | |
| FLUM | 2021 | Mixed use Moderate Density Commercial/Moderate Density Residential | Mixed use Medium Density Commercial/Medium Density Residential | Nannie Helen Burroughs Ave between Minnesota Ave and west side of 44th st | 7 | |
| FLUM | 2035 | Mixed use Medium Density Commercial/Moderate Density Residential | Mixed use Medium Density Commercial/Medium Density Residential | Minnesota Ave and Benning Rd | 7 | |
| FLUM | 2728 | Medium Density | Medium Density Commercial/Medium Density Residential/Local Public Utilities | Benning Road Metro (repeat?) | 7 | |
| FLUM | 9816 | Moderate Density Residential | Moderate Density Commercial, Medium Density Residential | Benning Rd SE between 46th St SE and A St SE | 7 | |
| FLUM | 9916 | Moderate Density Residential | Low Density Commercial, Moderate Density Residential | Both sides of Sheriff Rd NE between 46th St NE and 48th St NE | 7 | |
| FLUM | 9917 | Moderate Density Residential | Moderate Commercial, Moderate Density Residential | Southeast corner of Benning Rd SE and H St SE | 7 | |
| FLUM | 9918 | Low Density Commercial, Parks, Recreation and Open Space, Low Density Residential and Moderate Density Residential | Moderate Density Commercial and Medium Density Residential | Both sides of East Capitol St SE and NE, Southern Ave SE, 58th St NE and both sides of Blaine St NE | 7 | |
| FLUM | 9979 | Local Public Facilities | Moderate Density Commercial, Moderate Density Residential | C St SE, 49th St SE, 46th St SE, and eastern side of Benning Rd SE | 7 | |
| FLUM | 1587 | Low Density Residential | Moderate Density Residential | 4100 Blocks of Martin Luther King Jr. Ave SE and 2nd St SW between Brandywine and Chesapeake | 8 | |
| FLUM | 2275 | Parks, Recreation, and Open Space or mixed-use, Medium Density Commercial/High Density Residential/Institutional | Mixed-Use, High Density Commercial/High Density Residential/Institutional | Square/Lot(s): 5860; 5788/PAR 0231 0011; Square 5860, Lot 1022; Square 5788, Lot 0817 | 8 | |
| FLUM | 2334 | Institutional | Institutional and Medium Density Residential | 1600 Morris Rd SE (Square 5817, Lot 803) | 8 | |
| FLUM | 2344.1 | Production, Distribution, and Repair | Mixed use Medium Density Commercial, Medium Density Residential, PDR | Martin Luther King Jr. Ave SE between Good Hope Rd and 15th St SE | 8 | |
| FLUM | 9975 | Low Density Commercial | Moderate Density Commercial | Both sides of Good Hope Road SE between 18th St SE and Minnesota Ave SE | 8 | |
| FLUM | 9978 | Low Density Residential | Moderate Density Residential | Martin Luther King Jr Ave SW and 2nd Street SW | 8 | |
| GPM | 9955 | Neighborhood Commercial Center | Neighborhood Conservation Areas | Wheeler Rd SE, Wahler Pl SE, Barnaby Ter SE | 8 | |
| FLUM | 9808 | Moderate Density Residential | Low Density Commercial/Medium Density Residential | Mid block of S St NW between 13th St NW and 14th St NW | 1/2 boundary | |
| GPM | 9965 | Neighborhood Conservation Area | Main Street Mixed-Use Corridor | S St NW, Riggs St NW, 14 St NW | 1/2 boundary | |
| GPM | 9801 | Land Use Change Area | Central Washington | R St NE, 7th St NW, Massachusetts Ave NW, 2nd St NE | 2/6 boundary | |
| GPM | 9805 | Federal | Central Washington | Independence Ave SW, 12 St SW,  L'Enfant Promenade SW | 2/6 boundary | |
| FLUM | 9946 | Parks, Recreation and Open Space | Medium Density Commercial, Medium Density Residential | Western side of 1st Pl NE at the corner of Riggs Rd NE | 4/5 boundary | |
| FLUM | 9815 | Production, Distribution, and Repair | High Density Commercial/High Density Residential/PDR | New York Ave NE between Florida Ave NE and 36th Pl NE | 5/6 boundary | |
| FLUM | 9983 | Low Density Commercial, Moderate Density Residential | Moderate Density Commercial, Medium Density Residential | Benning Road NE from H Street NE to Oklahoma Avenue NE | 5/6 boundary | |
| GPM | 9950 | Neighborhood Conservation Area | Main Street Mixed Use Corridor | Benning Rd NE between 15th St NE and 18th St NE | 5/6 boundary | |
| GPM | 1746 | unclear | Unclear (attached PDF) | Unclear (attached PDF) | unclear | X |
| GPM | 2343 | unclear | Moderate Density Commercial and Moderate Density Residential | unclear | unclear | X |
| GPM | 2361.1 | unclear | unclear | unclear | unclear | X |
| GPM | 2361.2 | unclear | unclear | unclear | unclear | X |
| GPM | 2361.3 | unclear | unclear | unclear | unclear | X |
| GPM | 9818 | Add the proposed State of Washington, Douglass Comonwealth | n/a | See GPM | unclear | |
| GPM | 9819 | Add new layer for Future Planning Analysis Areas | n/a | See GPM | unclear | |
| GPM | 9820 | Add new layer for Resilience Focus Areas | n/a | See GPM | unclear | |
[top]